Total PoP Tx in last day:
3087
Average Block Size:
625 B
Circulating supply:
791,151,142
Max Supply:
2,100,000,000
Average Block Size:
625 B
Circulating supply:
791,151,142
How do PoP and PoW Mining Work Together?
While PoW miners compete to create blocks on the security-inheriting blockchain network, PoP miners compete to publish fingerprints of the security-inheriting blockchain in the next block on the security-providing blockchain. PoP is complementary and reinforces any existing consensus protocol.
Additionally, PoP mining can be performed on minimal hardware; it only requires a funded wallet to pay fees on the security-providing blockchain.
To learn more, visit the Wiki links VeriBlock and Proof-of-Proof and PoW vs PoP Mining.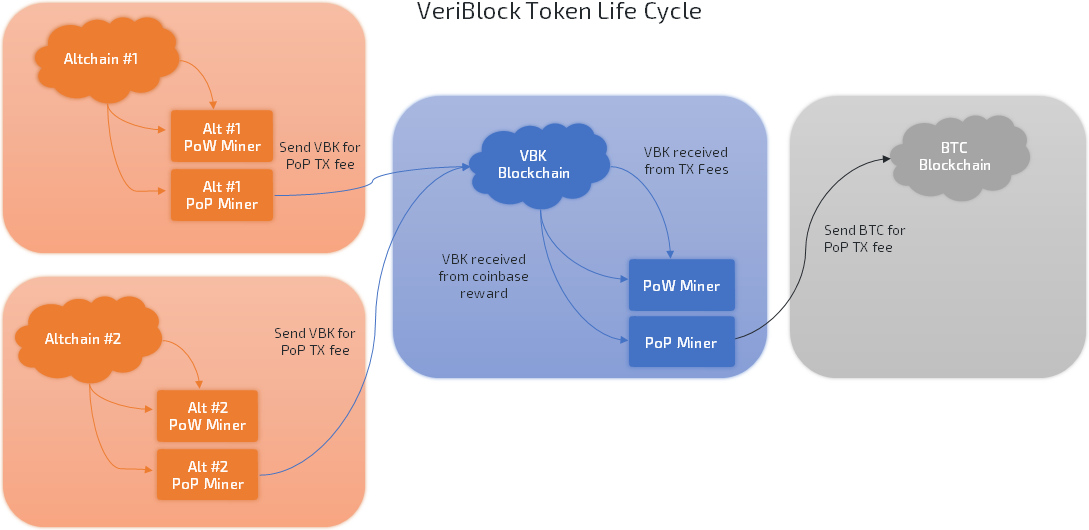 The Proof-of-Proof (PoP) consensus protocol enables a security-inheriting blockchain (VeriBlock) to inherit the complete Proof-of-Work of a security-providing blockchain (Bitcoin). Anyone can Proof-of-Proof mine without expensive hardware.
PoP mining is a competitive endeavor in which miners compete to have their endorsement of the VeriBlock blockchain state included in the earliest possible Bitcoin block.
For an in-depth explanation about mining, visit the Wiki page How To run PoP Miner.
The PoW miner helps get the next block added to the VeriBlock blockchain.
Visit the Wiki page, How To PoW Mine VeriBlock, for an in-depth explanation.
You can run the PoW miner as an individual, or connect to a pool.
This list will be updated as altcoins adopt VeriBlock's PoP Consensus Protocol.
BTCSQ – BTCSQ is reference implementation of the Bitcoin codebase secured to Bitcoin using VeriBlock® Proof-of-Proof® ("PoP®") in an entirely Decentralized, Trustless, Transparent, and Permissionless ("DTTP®") manner.
A list of upcoming and in progress altchains can be found here.